Discover signs of brake wear and the importance of a brake inspection.
Your brakes are one of the most important safety features on your vehicle. Monadnock Ford is here to help you make sure they're in optimum condition. Brakes are designed to slowly wear as you use them. That's why it's so important to visit your Ford Dealership where an expert technician can perform a thorough inspection and complete any needed maintenance or repairs.
Can you spot the signs?
Have you ever wondered what's stopping you? Do your brakes feel squishy or squeak? These are signs you shouldn't ignore. Even if you don't see any signs, a routine inspection at your Ford Dealership can save you money on costly repairs. To discover more about how brakes work, how to spot warning signs and why it's so important to have regular brake inspections, please view the video above.
Lifetime Brake Pad Guarantee
*
At Ford, we'll stop at nothing to make sure you can stop for anything. That's why we provide a Lifetime Brake Pad Guarantee. Our brake pads are specifically designed and engineered for your Ford. For optimum stopping power, schedule a brake inspection at your Monadnock Ford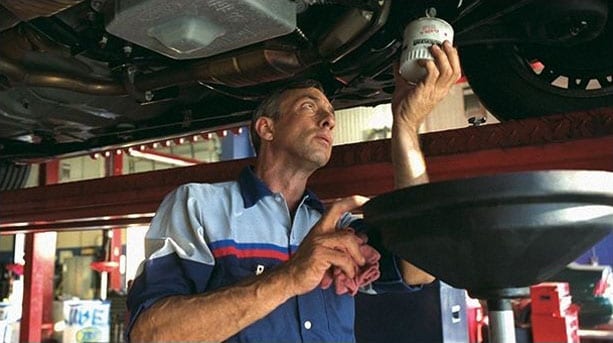 Today's vehicles are some of the most technologically advanced machines ever produced. Even an oil change isn't as basic as it used to be. Our expert Ford Service techs know their stuff and have the right parts to help make sure the job gets done right.
Why it's important to get your oil changed at regular intervals.
You want to maintain your vehicle and keep it in great shape. Regular oil and filter changes help your vehicle run with optimum efficiency. When you use the proper grade of engine oil, you can improve your mpg by as much as 2 percent.*
The right oil change at the right time.
Everyone drives differently, but be assured: we know your vehicle. And we can help maintain it at the appropriate intervals. It's not as frequent as you think, so we can help save you time. In fact, with certain vehicles, you can go 10,000 miles in between oil changes.
For 2008 and newer model year vehicles, Ford recommends that you change your oil every 7,500 miles or every six months, whichever comes first.
For 2007 and older model-year vehicles, Ford recommends an oil change every 5,000 miles or every six months, whichever comes first. You can also check Intelligent Oil Life Monitor located in your vehicle's instrument cluster message center.
The Works™: An oil change and much more.
When you visit Monadnock Ford, we'll make sure your vehicle is checked properly with The Works. Our complete vehicle checkup includes a synthetic blend oil change, tire rotation and pressure check, brake inspection, Multi-Point Inspection, fluid-top off, battery test, filter check plus belts, hoses check, and more.
What kind of roads are you traveling on?
If you're like a majority of U.S. motorists, you've experienced very challenging road conditions lately. A study from TRIP, a national transportation research group, shows that 33 percent of major U.S. roads are in poor condition. Driving on these roads costs motorists an average of $377 in extra vehicle repairs.
Knowing this, you want to make sure your vehicle's tires are in optimum condition to handle the roads. The experts at Monadnock Ford are here to help.
The advantages of keeping your tires properly inflated.
When your vehicle's tires are properly inflated, it can help you improve your fuel economy by 2 percent
*

. Proper inflation also optimizes your vehicles performance and handling, which will help you feel safer behind the wheel
A major cause of tire damage is improper inflation. Over time, your tires lose pressure which can cause irregular tread wear and poor gas mileage. On average, tires lose air at the rate of one pound per month. In colder temperatures, a tire will lose one pound of pressure for every 10-degree drop. A simple solution: check your tire pressure at least once a month for longer performance. Your vehicle may also be equipped with a tire pressure monitoring system. Displayed on your dashboard, it alerts you to sudden changes in tire pressure or low pressure in one or more of your tires.
**
Your Expert Ford Service Technicians and Your Tires.
If you are in the market for a new set of tires, turn to our expert Ford Service technicians. They have the latest equipment to make sure your tires are installed correctly and are well maintained. Choose from 13 name-brand tires and get the assurance of our Low Price Tire Guarantee
†

. Why buy tires anywhere else, when Monadnock Ford has all of this?